German for Beginners – Start speaking German within 1 month
Do you want to learn German to communicate?
Because you are planning to visit Germany?
Because you are already studying or working in Germany?
Because of other reasons?
Do common grammar-focused approaches to learning a language frighten or bore you?
Perhaps you already got stuck trying to learn German in such a way?
The good news is, there is another way:
It's possible to learn German in an effective yet fun way!
€9.99

€5.99*
* limited time offer

Introduction
First Lesson: Pronunciation
Answers to your Questions

Lesson Plan
In our 1-1 beginner classes, we will focus on building up your vocabulary and confidence, while speaking German as much and as soon as possible.
Take these 3 simple steps:
Learn the basic vocabulary and a tiny bit of grammar.
Feel comfortable because you are in a safe, unbiased environment.
Start speaking!
And this will be the result:
You will speak German within the first month.
You will be immersed in German language and culture.
You will feel relaxed and comfortable when speaking.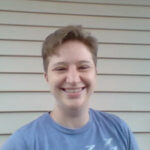 I've been learning German with Britta for 1.5 years and have gone from a complete beginner to being able to speak at a B1 level. Britta is an amazing teacher and increase the level of difficulty in a way that feels natural so that I continue to improve. She is always willing to answer my questions and I've come up with some random ones. Deciding to take lessons from Britta was one of the best decisions I made for learning German. In 2019 Sarah started taking classes as part of a language learning challenge, where she had to record a conversation with a native speaker. After about 10 classes we recorded the following… Read more "Britta is an amazing teacher"
SARAH T.
Washington, D.C. - USA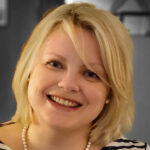 I have been learning German with Britta for a couple of months and it has been a great experience. I was a complete beginner. Thanks to her wonderful teaching methods it feels like this language comes naturally to me (without spending hours and hours studying grammar and memorizing new words). Britta is very patient, and she takes the time to explain and answer any questions I have. I find myself looking forwarded to her classes. She is not only a very good teacher, but a wonderful and interesting… Read more "Wonderful teaching methods!"
Inna Vebb
Czech Republic
Still not sure that this is working?
How often have mum or dad forced you to practice grammar during the time you learned you mother tongue when you were still a toddler? NEVER? But still you became fluent, didn't you? A human brain is wired to pick up a language when exposed to it – regardless whether it is a 'native' or a 'foreign' one. Let us teach you the tricks to use this inherent talent.
€ 98.00
€94
save € 4.00
1 month of weekly lessons

€ 318.50
€289
save € 29.50
3 months of weekly lessons
€ 1225.00
€998
save € 227

1 year of weekly lessons